The Abacos are a sailing paradise. Somewhere in the long necklace of pale-sanded islands and often uninhabited cays, flung out over 120 miles, you're sure to find the ideal private spot for some chilled champagne and a good book. Sheltered harbours create a haven for yachtsmen, and the slumber-struck 18th century villages and historic museums recall a tranquil past.
The major islands of this small archipelago are Great and Little Abaco, with the off-lying cays of Elbow Cay, Man-O-War Cay, Green Turtle Cay, Guana Cay, Stranger's Cay, Umbrella Cay and Walker's Cay. The Abacos have a long history of providing refuge from hectic life in the States. It was at Carleton Point, Abaco's first settlement, that 600 Loyalist refugees fleeing the newly-independent United States settled in 1783, and Grand Cay was once a favorite retreat of former US president Richard Nixon.
If you're not cruising there's still plenty to do. You can visit the Pelican Cay National Park, an underwater preserve; or, the Abaco National Park, a 20,000 acre site in southern Abaco encompassing the nesting area and habitat of the Abaco Parrot. Or spend a quiet afternoon at the Albert Lowe Museum, a restored 150-year-old mansion that now houses exhibits on local history. In the Memorial Sculpture Gardens, busts of some 30 Bahamians, representing different Bahamian islands, stand in an elegant, tranquil garden setting.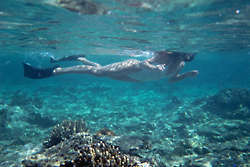 Elbow Cay, with beautiful beaches and fine hilltop views, is the proud home of a candy-striped lighthouse standing guard over a picture-book harbour. A guide will show you around and tell you how the lighthouse operates. Nearby Man-O-War Cay (named after the bird) has always depended on shipbuilding for its livelihood. Some boats are still handmade-without-plans in a tradition that has been passed down for centuries. The town here resembles a New England sea-side village, save for the palm trees and tropical breezes.
The commercial hub of the islands and third largest town in The Bahamas is Marsh Harbour, on Great Abaco, which has a plethora of well-stocked stores and marinas that provide services to fulfill the boater's every need.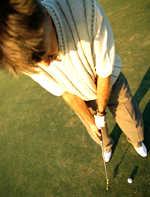 There are relatively few green turtles remaining on Green Turtle Cay, but they are bred here on farms and considered food. On occasion, boiled turtle or turtle stew, will appear on restaurant menus. Be aware when purchasing items made from turtle shell that they may have to be left behind, as it is illegal to import these products into many countries.
Treasure Cay has an 18-hole championship golf course, tennis courts, a marina and facilities for fishing, boating and scuba diving. Nearby Treasure Island has superb beaches
Walker's Cay is the northernmost island in The Bahamas. Its waters are overrun with gamefish like tuna, dolphin, blue marlin, billfish, and kingfish among others. Walker's Cay Undersea Adventures offers bonefishing, deep sea fishing, secluded island picnics, tours of the tropical fish hatchery, and cookouts for dive groups.